Screen Printing
Paw Prints has been printing t shirts since 1973. From small orders to large orders Paw Prints does it all!
We print all types of garments, from basic T-shirts to sweatshirts, polo shirts, bags, towels, jackets and more.
We produce your order completely in-house, from custom art creation, to pre-press, film production, screen preparation and printing the final product.
We have three screen printing presses, a 10 color automatic and a 4 color manual press. This extensive investment in the best equipment available provides us with quality printing and the fastest turnaround time on the peninsula. Our normal turnaround time is 5 working days.
We can print from your own artwork, or one of our in-house graphic designers can create a custom design for T-shirts.
We've been serving the bay area since 1973, we must be doing it right!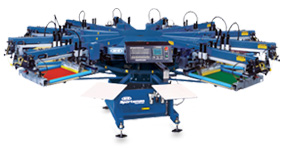 M&R 10 color automatic press